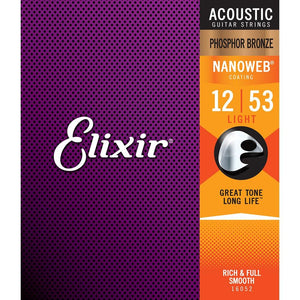 Elixir Nanoweb Light .012-.053 Phosphor Bronze Acoustic Guitar Strings 16052
Regular price $17.99 Sale
Elixir Strings are the originators of the coated string. Elixirs are known for their ability to repel dirt all the while staying bright sounding and clean feeling. These strings ship on many guitars straight from the manufacturer. Taylor and Rainsong being two of the biggies.

We love these strings for their ability to stay grime free. They have plastic wound into them which doesn't allow for sweat and dirt to penetrate into the nooks and crannies of the strings the way a typical untreated round wound string does. This keeps them from oxidizing, rusting, etc for longer, allowing for more time in between string changes.

This set is our best seller. The High E Strings is a 12 gauge while the Low E measures a 53. Perfect for practically any acoustic guitar regardless of manufacturer, model, and composition. Most manufacturer's ship with this gauge or something very similar so if you are looking to replace your strings with what came from the factory, this would also be a great choice.

The Music Gallery of Highland Park sells Elixir Strings for the Acoustic and Electric Guitar. We also have them on many guitars that are in stock and available to demo. So if you aren't sure about giving them a shot on your guitar, you can try them out on one of ours!