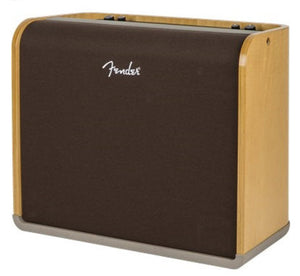 Fender Acoustic 100 Acoustic Guitar Amplifier
Regular price $399.99 Sale
The Fender Acoustic 100 is a transparent 200 Watt 2-channel acoustic amplifier built to correctly amplify the true tone of your acoustic instrument! Packed with the most professional parts that will hold up throughout any strings of shows, this amp is built to be played through.
Fender included all the logical features on this amp that any professional player would consider necessary, such as a direct XLR line out with ground lift and level control for hyper-clear DI's. This stunning amplification system that will withstand a lifetime also included a 1/4" Effects loop to handle all your time-based effects and keep them from interfering with your signal chain.
The Dual-Front panel inputs allow you the option to plug in 1/4" cables or XLR's depending on if you'll be using an instrument or a microphone. Fender also included a feedback control section allows you to reverse the polarity on each channel's input with the press of a button. If even more control is necessary they included certain mid-range sweep controls to manipulate your sound for whatever room or stage you're playing at to completely eliminate the ill-famed acoustic feedback.
With on-board reverb you're able to fill any space with rich, lush sounds that can emulate any sized space. The 1/8" headphone jack is handy for players that are looking to practice quietly without bothersome noise-levels. The Acoustic Pro is loaded with 12" Fender® Special Design Speaker for a great, full frequency range that can handle any type of Acoustic instrument. The front-panel controls contain a volume, low, mid-frequency, mid-level, high, reverb, and phase switch (for each channel). 
100 x 2 -watt 8" combo amplifier ideal for solo performers or acoustic duos
Two channels for instruments or microphones
Onboard hall reverb and tone controls with sweepable midrange
Integrated tilt-back kickstand easily converts the amp into a stage monitor
Includes deluxe fitted cover; optional two-button footswitch for reverb bypass
MPN #: 2314000000