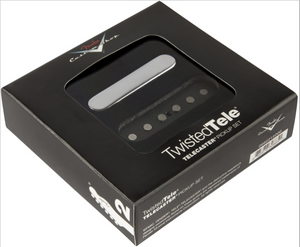 Fender® Custom Shop Twisted Tele Pickup Set
Regular price $219.99 Sale
Fender® Custom Shop Twisted Tele pickups deliver hot high-output Telecaster guitar tone with a dash of sparkling Stratocaster® guitar character. 
Each pickup is tailored to its position (neck and bridge) to achieve its individual sonic character. The neck pickup's taller bobbin is designed to accommodate more windings, combined with a slightly shorter bridge pickup bobbin for dark full-bodied midrange.

We sell A LOT of these pickups, both as an upgrade and in Custom Shop guitars. In fact, our Legendary, One Piece Body Telecaster's come loaded with these from the factory and we can't keep those instruments here for more than a couple weeks at a time. These may have a little too much oomph for that true 50's tone but it's hard to say they don't sound killer! Another pickup that matches extremely well with a 4 way switch for series or parallel operation.
Fender Custom Shop
Twisted Tele Pickups
Configuration: SS
Cover Color Neck: Nickel Cover. Bridge: Black Cover
Magnet Type Alnico 5
Magnet Wire Formvar-coated neck, Enamel-coated bridge
DC Resistance Neck: 5.9K, Bridge: 10.0K
Inductance Neck: 2.2 Henries, Bridge: 4.2 Henries
Bobbin Material Fiber Lead Wire Cloth-covered
Pole Pieces Flush-mount
Tone Modern
Output Moderate (4 out of 5)
MODEL #: 0992215000
UPC #: 885978308651