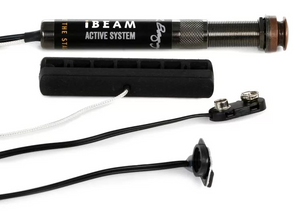 LR Baggs iBeam Active System with Volume Control
Regular price $149.00 Sale
The LR Baggs iBeam Active System lets you add an award-winning bridge-plate transducer with a built-in Class A FET-based preamplifier to your acoustic guitar. The transducer mounts directly underneath the bridge plate of your instrument, and the preamplifier output jack mounts into your endpin hole, so there's no visual alteration to your guitar. A "plug-in-and-play" design adds unrivaled ease of use to the iBeam Active System. Once it's installed, all you have to do is plug in and the iBeam Active System turns on.
While LR Baggs recommends professional installation of their iBeam Active System, they do include a placement jig to make the process as easy as possible if you do it yourself. They also provide you with peel-and-stick adhesive to keep the transducer in place without affecting the wood of your guitar in any way. The iBeam Active System fits almost any x-braced guitar with at least 3" of flat, open space directly under the saddle. The preamp itself runs on a single 9V battery, and you get about 1000 playing hours out of a single battery. When properly installed, the LR Baggs iBeam Active System brings out the natural tone of your acoustic guitar while maintaining perfect string balance and providing full dynamic range.
Need help installing your new iBeam? Well, The Music Gallery has you covered! Not only can you get this wonderful pickup here but we can easily handle the installation process too! Give us a call for a quote!