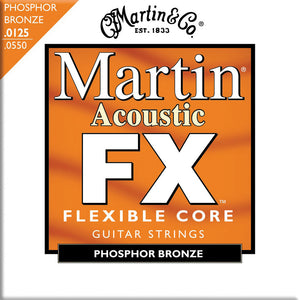 Martin MFX745 .0125-.0550 Flexible Core 92/8 Phosphor Bronze Light/Medium Acoustic Strings
Regular price $10.00 Sale
C. F. Martin & Co. designs their strings for maximum performance, exacting tone, and playability.
Martin strings are designed to give you excellent tone, clarity, and response. Martin strings are ideal live, in the studio, or wherever maximum string life and a clear, rich and exciting tone is an absolute must. Martin strings will take you wherever your music goes.
Martin Acoustic FX strings utilize an advanced thin wire core wire to increase flexibility and improve sustain without sacrificing tone, durability or playability.
Light/Medium gauge
.0125, .0165, .0255, .0335, .0435, .055
92/8 Phosphor Bronze