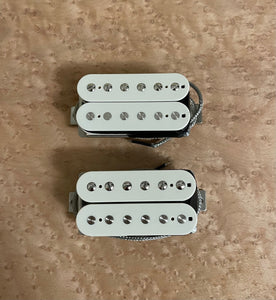 Pickups by Pete A Flynn Double White PAF set #82
Regular price $450.00 Sale
Zebra PAF set for Dave Jordan, Set #82
neck pickup 7.1
bridge pickup 8.0
Hand made, hand wound, scatter wound, custom made to my specs nickel silver base plate just like the the original late '50's PAF base plate. 42 gauge plain enamel Electrisol wire, rough cast A5 magnet, vintage correct butyrate bobbins, mismatched DC resistance. Highest quality parts all the way around! If you've always wanted the incredible tone of the coveted hand wound late '50's PAF pickups, then I have what you've been longing for. 
I can wind you a classic design or a custom formula to make you and your instrument stand out from the crowd. 
Thank you for choosing my hand wound pickups. 
Enjoy!